Our Consulate is located at 66 O'Connell Street, which is also the main street of Limerick. The function of the Honorary Consul of the Republic of Poland is represented by Mr. Patrick O'Sullivan. Our office was opened on l9-th December 2011. It is open from Monday to Friday from 10.00 – 13.00. However, we can make an appointment in the afternoon for those of you who can not visit us in the above hours.
Two friendly staff work in the office. Also during the academic year, we use the help of students who are doing their work placement.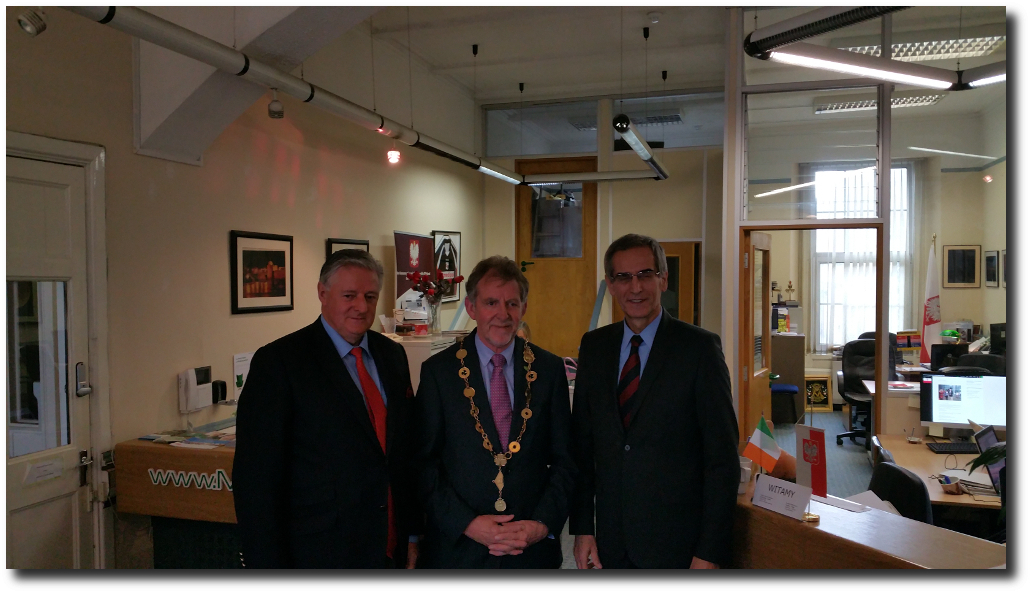 • Honorary Consul deals with:
– The protection of the rights and interests of Polish citizens, ensures the equal treatment of Polish citizens in relation to matters of employment, wages, social security, education and access to Irish justice system
– Providing information concerning the national Irish law and dealing with state institutions
– Assisting in emergency situations, such as deaths, accidents, illness of the Polish citizens
– In an emergency situation he can visit a Polish citizen in hospital, jail, etc.
• In the area of ​​economic cooperation:
– He is working to create suitable conditions for Polish exports and the development of economic cooperation
– He supports Polish entrepreneurship in the region
• In the field of cultural cooperation:
– He promotes the good image of Polish cultural heritage
– He initiates and helps to organize cultural events (eg. Exhibitions, films , artistic performances)
– He works for the development of the Polish language
• In cooperation with the Polish diaspora:
– He maintains contacts with Polish community organizations
– He takes part in Polish community cultural, patriotic events and State anniversaries
In addition, the Honorary Consul promotes all forms of tourism to Poland.